Weather Stripping
WEATHER STRIPPING ~ DOOR SEALS
Memtech brush industrial weather stripping has been designed and field tested as a dependable door seal for both hot and cold weather applications – keeping the warm air in and keeping the cold weather out. It also prevents dust, debris, insects and air seep through large openings on your external doors.
Memtech Brush's weather stripping is used for all types of door seal applications such as dock levelers, entry doors, aircraft hangar doors, sectional overhead doors, rolling steel doors, swinging doors, hollow metal doors, and front door weatherstripping along with many more as an industrial weather strip. Door seals are the most common weatherseal application known as weatherstripping.
Memtech Brush manufactures custom door weather seal designs.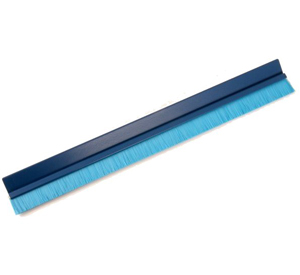 Whether your business has stock door sizes or custom door sizes, Memtech brush door seals are a very unique weather stripping material because it not only seals far more effectively than a solid vinyl or neoprene, but because it is virtually indestructible. Only brush door weatherstripping can seal so completely along uneven surfaces as the individual bristles nest together along the surface.
Brush weather stripping is the only fully flexible air-tight door seal available for doors and dock levelers. The technology of brush not only serves as garage door weatherstripping, exterior door weather stripping, or commercial door weatherstripping, but also serves industry as a deflector on drilling or surfacing machines, parts and product guide and sound or temperature blocker. www.FlexGuard.com
Why Brush Seals as a Door Weatherstrip.
The brush – normally a nylon formulation – is looped around a central wire, crimped into a steel channel and trimmed to size (about 1200 filaments per inch). This assembly is normally slid into an aluminum extrusion designed to fit a particular door or use. The brush can be cut as short as ¼" or as long as 24' and the extruded holder can be nearly any angle to suit the task at hand.
The extrusions holding the brush are made in several sizes to fit different jobs. These begin with A and go through J. An "A35MIL07- 63" as an example, is a small strip used on pedestrian doors. The first letter is the size (A) then the angle the brush is set (35 degrees), MIL means its plain aluminum or mill finish (others could be CLA for anodized or BRA – brown finish). The 07 is the length used for pricing (7 ft) and the final number is the length of brush (.063" inch). An F40MIL12 – 3.0 describes a larger extrusion (F) mil finish, 12 ft long (for pricing and usually cut 6' & 6' or 8' & 4' for shipping), with a 3 inch brush.
Contact our Weatherstrip Door Specialists.
If your business or individual property is looking for the best door weatherstripping, contact Memtech Brush today and our weatherstrip door specialists will guide you in making the best decision for all of your brush seal needs.
Additionally, we have an extensive custom design department in which we develop special brushes for nearly any application a client might present.