Weather Seals
Memtech brush weather seals have been designed and field tested as weather seals for hot weather applications – keeping the cool air in and cold weather applications – keeping the cold weather out. These weather seals are used for all types of weather seal applications such as door seals, window seals, dock leveler seals, commercial weather seals and industrial weather seals.
Memtech Brush weather seal: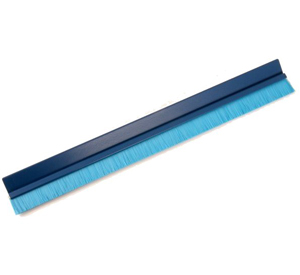 Door seals are the most common application of weather seal. We manufacture many weather seal designs for personnel entry door seals, double entry door seals, hollow metal door seals, overhead door seals, sliding door seals, swing door seals, rolling steel door seals, dock leveler weather seals, and vertical lift door seals.
Memtech brush weather seals are very unique as a weatherstrip material because it not only seals far more effectively than a solid vinyl or neoprene, but because it is virtually indestructible. Only a brush weather seal can seal so completely along uneven surfaces as the individual bristles nest together along the surface.
It may be surprising to realize that each 3' x 7' outside entrance door represents at least 5 ½" X 5 ½" (30 sq. in.) opening in your building. This is a linear crack of only 1/8" around the door perimeter of 20 ft. Multiply this by the number of doors in your building and it is easy to determine where a great deal on heating and cooling energy is wasted.
According to accredited test data (ASHRAE), each 3' x 7' door costs you from $45.00 to $100.00 per year in heat loss alone, not to mention air conditioning at twice the price, dust, bugs, noise, and general discomfort. Memtech brush weather seals provide an efficient solution to sealing the gaps around your doors.