Brush Door Seals
The nylon bristles on our weather seals and door seals conform to irregularities, and a wide variety of bristle lengths, thicknesses and mounting extrusions allow for any door sealing application.
A Brush Seal is the only fully flexible air-tight door seal available for doors and dock levelers. The technology of brush also serves industry as a deflector on drilling or surfacing machines, a parts & product guide and a sound or temperature blocker.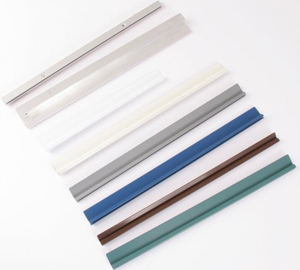 The brush – normally a nylon formulation – is looped around a central wire, crimped into a steel channel and trimmed to size (about 1200 filaments per inch).  This assembly is normally slid into an aluminum extrusion designed to fit a particular door or use. The brush can be cut as short as ¼ " or as long as 24' and the extruded holder can be nearly any angle to suit the task at hand.
The extrusions holding the brush are made in several sizes to fit different jobs. These begin withA and go through J.  An "A35MIL07- 63" as an example, is a small strip used on pedestrian doors. The first letter is the size (A) then the angle the brush is set (35 degrees), MIL means it's plain aluminum or mill finish (others could be CLA for anodized or BRA – brown finish). The 07 is the length used for pricing (7 ft) and the final number is the length of brush (.063" inch).  An F40MIL12 – 03.0 describes a larger extrusion (F) mil finish, 12 ft long (for pricing and usually cut 6' & 6' or 8' & 4' for shipping), with a 3 inch brush.
Additionally, we have an extensive custom design department in which we develop special brushes for nearly any application a client might present.

---
Memtech Brush Door Seals have been designed and tested for:
Hot weather applications – air sealing, keeping the cool air in

Cold weather applications – air sealing, keeping the cold weather out

Only a Memtech brush seal can seal so completely along uneven surfaces as the individual bristle nest together along the surface.
The use of strip nylon brushes for door seals, weatherstripping and weather seals has been proven as superior door seal barriers

A Memtech nylon brush seal or weather seal for air seals far outperforms vinyl or rubber strips as a door seal
---
---
Non-chemical Pest Control
Use Memtech nylon brush weather seals and nylon brush door seals as non-chemical pest control to keep flying and crawling insects and small animals outside of your facility.
Air Flow Control
Memtech Brush door seals and weather seals are highly effective physical barriers to control air flow for both heating and cooling on all types of gaps  in windows and doors.
Dust Control
Seal buildings, clean rooms, computer rooms, machinery, and filtration systems from the ravages of dirt and dust particles with brush door seals and weather seals.
Light Control
Effectively reduce or eliminate light transfer in sensitive areas such as darkrooms with a  Memtech weather seals and brush door seals.
Sound Control
Brush seals and weather seals create barriers to control infiltration from fan rooms, test cells and machinery when the individual brush bristles as door seals follow contours to seal the gaps.
Nylon Brush Seals
Our type 6 nylon weather seals and brush seals are UL. Rated as "Gasket Material for Fire Doors" (viable from -100ºF to -200ºF).